Body shapes – Rectangle or H
Hi, thanks for stopping by. I'm currently developing an online course about how to dress your body and I want to make it as useful as possible! If there is something that bothers you when it comes to your body shape and you want the issue addressed, you can vent your frustrations here.
---
Rectangle or H body type is characterized by very little waist definition with straight rib cage and hips. Shoulders and hips are similar in width. Women with Rectangle body shapes often (but not always) have short waists, flat bottoms, fuller busts, thicker tummies, and great long legs.
Celebrities who posses this body shape:
Jennifer Garner, Rosario Dawson, Anne Hathaway, Eva Longoria.
In contrast to the Lean column or I body shape which can be described as boyish, Rectangle shape has larger bone structure and look stouter and more solid, if we may say so.
The golden rule for dressing the H body shape is to not draw attention to the middle part of the body. Keep all the details in your clothing either below or above your mid section.
Below you will find recommendations for an average woman with Rectangle body shape.
Fabrics:
As an average Rectangle you can wear stiffer fabrics such as wool crepe, woven wool, cotton, linens, lightweight tweeds, fine knits, and jersey. If some parts of your body are fuller choose softer fabrics that drape well.
Patterns:
Use straighter patterns (stripes, checks, and geometric patterns) on straighter parts of your body. See the example of what happens when stripes are on a fuller bottom. The vise-versa is also true, use less geometric and more abstract or rounded patterns on your fuller parts.
Clothing lines:
You can choose shaped and semi fitted clothes as well as straight, but they shouldn't be tight.
Note that you can tie a belt behind to create a fitted silhouette.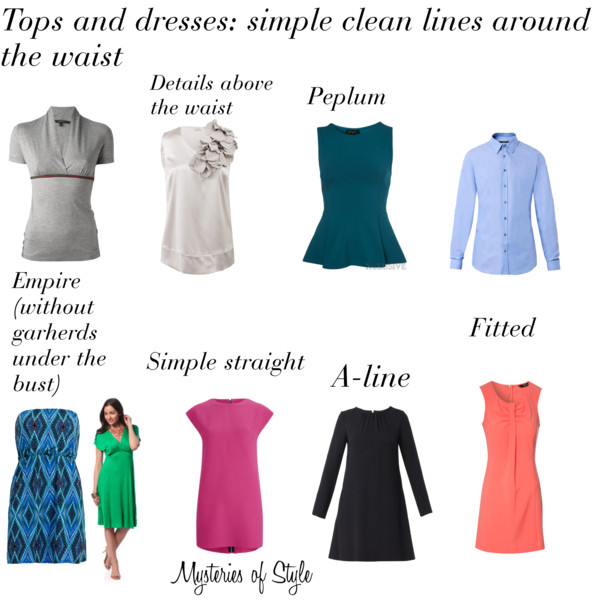 You can wear most types of skirts and trousers, with the exception of pleats and gathering around the waist and tummy. If you have fuller thighs, straight or flared pants will work better.
Double breasted jackets and oversized garments may work if they are made from thin fabrics.
Avoid details on the waist and tummy area, such as belts, horizontal details, gathers, pleats, horizontal and patched pockets, fluffy fabrics and boxy cuts.
Remember that these recommendations are for an average Rectangle body shape. We are all unique with different proportion, colours, style personalities and so on, that need to be considered.
To be honest, I think that this approach to dressing is quite dated.. I described what I do instead in this post:
– How to determine your body shape and proportions.
You may also want to read this post:
– 5 Reasons Why You Don't Need to Know Your Body Shape
Hope you found something useful in this article. If you have any questions, please comment below.
If you need help defining your body shape and finding the right clothes, then a personal online consultation might be interesting for you 👇


---