Body shapes – Full hourglass
Hi, thanks for stopping by!
I'm currently developing an online course about how to dress your body and I want to make it as useful as possible! If there is something that bothers you when it comes to your body shape and you want the issue addressed, you can vent your frustrations here.
---
The full hourglass body shape is the most feminine body type, with full curves in all the right places. This shape is characterized by a full bust, a small waist, rounded bottom, and hips. The size of the shoulders and hips is relatively the same.
Celebrities who possess this body shape:
Christina Hendrix, Kim Kardashian, Oprah Winfrey, Nigella Lawson.
If you have this body shape it is important that you wear clothes that follow your body line as opposed to those that are straight. Smooth rounded lines are more preferable for you to harmonize your silhouette.
Fabrics:
Picking the right fabric for your body shape key to looking good. Choose it carefully. Avoid stiff materials when trying to accommodate your curves or you will end up with tops and jackets that are two to three sizes bigger than you actually need.
The fabric you need should be soft but firm (high-thread-count) and elastic. Try viscose/rayone, ponte-knit (combination of viscose/Rayon, Polyester and Spandex), techno-jersey, or Lyocell/Tencel. Silk, chiffon, relaxed wool crepe, jerseys, fine knits and stretchy fabrics with lycra are also good choices.
When you hold a garment it should hang down rather heavily and "floatingly".
Roughly said, the thinner fabric is, the drapier it should be and vise versa – the thicker the fabric the tighter it can fit.
If you choose cotton or linen, avoid stiff variations and look for fabrics cut on the bias that give movement and accommodate your curves.
Fabrics with textures can give you some extra volume, for example, corduroy, velvet, tweed, cable knits, and bouclé.
Clothing lines:
If you are satisfied with your curves and body, willing to show them off, and have balanced vertical proportions (long/short waist/rise/legs/neck), you can choose following clothing lines:
Dresses and Coats:

Skirts and Trousers: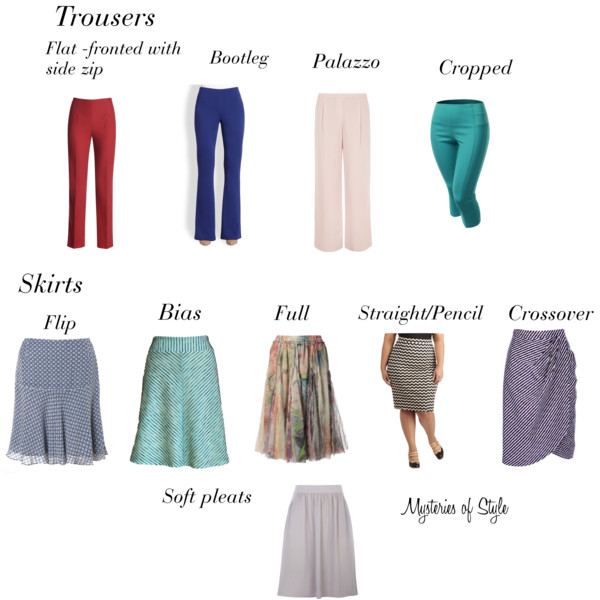 Things to take into consideration:
Palazzo – avoid the very wide styles if you are short legged or try them with high waist line. These looks best when the whole feet and heels are covered.
Cropped – make sure they finish at a narrow point on your calf.
Be careful with:
Jeans. When jeans are naturally faded, it can give an illusion of more voluminous legs. Think of when you draw an apple, a ball, a mug, or something else with a spherical shape; you add light and shadow to make it seem voluminous. The same principle applies here.
Skinny. As I mentioned in my previous post about a neat hourglass body shape, the contrast between slim ankles and hips may make the latter look bigger and heavier. In this case, add some volume to the ankles. For example, ankle boots help to add more volume.
Stiff skirts can make your hips look bigger.
Straight tunic and boxy, double breasted jackets, sport wear, and baggy sweaters will hang straight down from your breast, hide your waist, and may give the illusion of a few extra pounds kilos/pounds being carried. This can be fixed by adding a belt, but the fabric needs to be soft, otherwise the effect will be the opposite.
Shiny textures. See example with drawing above.
Front opening. Buttons shouldn't pull and the button placket should lie flat.


If you have a favourite shirt which is a bit tight, try to wear it over a camisole with those buttons unbuttoned.
Remember that pleats, ruffles, gathers, flaps or pleated pockets can add volume or bulk. If they are a part of your style – keep the fabric soft.
You should avoid:
Avoid thin, clingy, almost see through garments that show every little bulk even on a model's figure.
Avoid geometric patterns as will not lie straight over your curves and may give a strange optical illusion.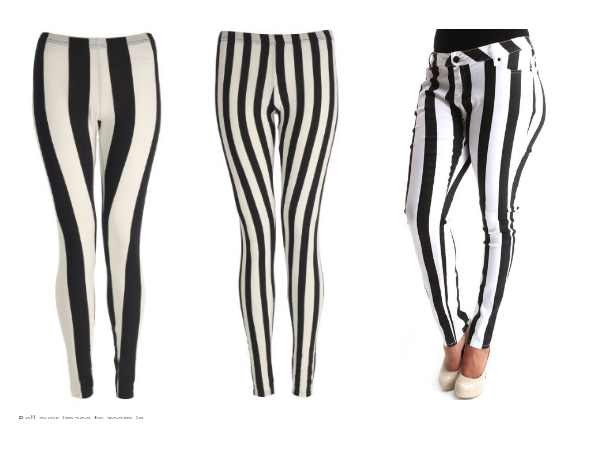 Example of how stripes can add volume on a completely flat surface:

Remember that these recommendations are for an average Full hourglass. We are all unique with different proportion, colours, style personalities and so on, that need to be considered.
To be honest, I think that this approach to dressing is quite dated.. I described what I do instead in this post:
– How to determine your body shape and proportions.
You may also want to read this post:
– 5 Reasons Why You Don't Need to Know Your Body Shape

If you have any questions, please comment below.
If you need help defining your body shape and finding the right clothes, then a personal online consultation might be interesting for you 👇


---