Body shapes – Neat Hourglass
Hi, thanks for stopping by. Unfortunately, most of the pictures in these series of posts disappeared with Polyvore, as they were linked to that site. Either way, they were quite dated already.
I'm currently developing an online course about how to dress your body and I want to make it as useful as possible! If there is something that bothers you and you want the issue addressed, you can vent your frustrations here.
_______________________________________________________________________________________________
Having a neat hourglass body shape means that you have a balanced body with a defined waist (usually 30cm or 12 inches smaller than the hips), defined bust, neat bottom and hips. The size of the shoulders (not bust) and hips is relatively the same. This shape varies from quite skinny (like Megan Fox) to quite fleshy (like Marilyn or Beyonce).
This body shape may also be called as an X body shape.
Celebrities who posses this body type:
Salma Hayek, Scarlett Johansson, Megan Fox, Jessica Biel.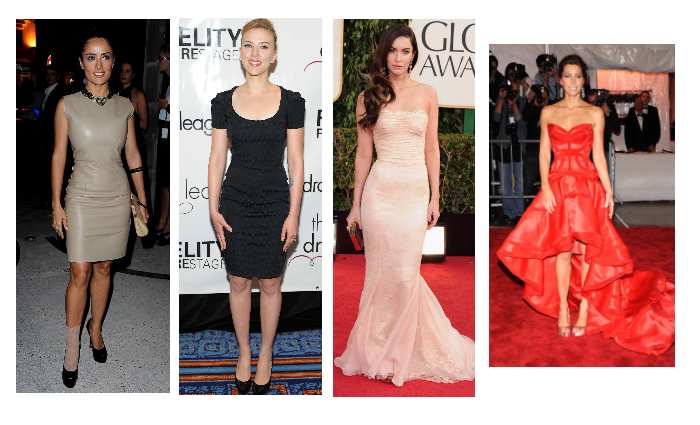 The hourglass body shape is considered as the most ideal and desirable shape. If you possess it you are lucky. You can wear basically anything and your shape is an asset, so show it off.
How? Follow the recommendations below:
– wear clothes that define your waist, enhance your bust and highlights your hips and bottom. Tailored outfits are the best thing for the hourglass figure, as they accentuate natural curves. Whether it's t-shirts, blouses, or jackets, they should all be fitted at the waist and hug your curves.
– Choose fabrics that are light to medium in weight and texture. It's best to stick to knits, cotton, linen, wool crepe, all jerseys and silk blends. These materials drape and skim curves and accentuate your shape without bulk. Stiff fabrics stick out from the body and make proportions seem boxy.
If you are satisfied with your curves and body, willing to show them off, and have balanced vertical proportions (long/short waist/rise/legs/neck), you can choose following clothing lines:
If your shape is more like Marilyn's be careful with safari as the pockets may add extra volume to your body.
Things to take into consideration:
Palazzo – avoid the very wide styles if you are short legged or try them with high waist line. This looks best when the whole feet and heels are covered.
Skinny – if you have hips more like Marilyn or Beyonce the contrast between slim ankles and hip may make the latter look bigger and heavier. In this case, try to add some volume to the ankles. Foe example, ankle boots.
Cropped – make sure these finish at a narrow point on your calf, unless you have thin calves and want them to look bigger. Avoid cuffs if your legs are short.
Culottes – follow tips of width as palazzo and length as cropped
Be careful with the following garments as they will hide your waist and may give an illusion of a few extra kilos/pounds being carried.
It doesn't mean that you can't wear them. Just be conscious of your choices. When you wish to downplay your curves, show off your other slim parts like wrists, neck, ankles, and legs.
Patterns:
The general rule about patterns is, you are able to wear most types of pattern due to balance between the top and bottom half of your body. The more personal recommendation is, pattern need to be in balance with your scale and facial features. For example if you have straighter features, the more angular and geometrical patterns you can wear and vice versa.
Remember that these recommendations are for average neat hourglass. We are all unique with different proportion, colours, style personalities and so on, that need to be considered.
If you have any questions, please comment below.