Body shapes – Inverted triangle (T or V)
Hi, thanks for stopping by. Unfortunately, most of the pictures in these series of posts disappeared with Polyvore, as they were linked to that site. Either way, they were quite dated already.
I'm currently developing an online course about how to dress your body and I want to make it as useful as possible! If there is something that bothers you and you want the issue addressed, you can vent your frustrations here.
__________________________________________________________________________________________________
Inverted triangle (T or V) body shape is characterized by a straight and squared shoulder line, no or a slightly defined waist, flattish hips and bottom and often long great legs. The bottom half of this body shape seems smaller.
Celebrities who posses this body shape: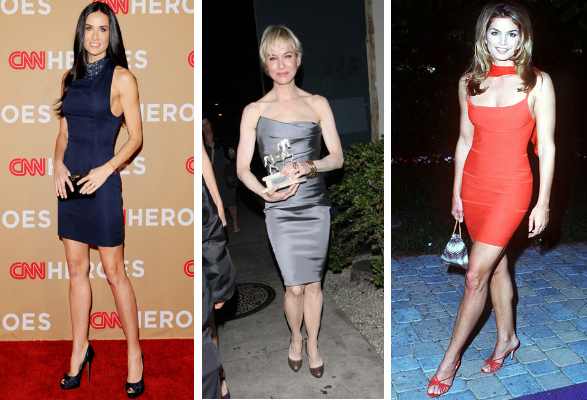 I've also got broad shoulders and I've seen lots of articles with conflicting information. Hopefully my post will clarify it a little bit.
Depending on how wide your shoulders are, and whether you like them or not, you can choose the following tactics:
– Add volume to your bottom part to create balance with your shoulders.
Cons: if you have a small head, it may look smaller after adding extra volume, so you may need to add some volume to your head as well. If you are already carrying a few extra pounds/kilos adding extra volume may not be that good an idea.
– Soften and downplay your shoulders. Good if you have those aforementioned issues.
– Show off your shoulders. Depending on your proportions you may add volume to the hips or not.
– Distraction. Show off your legs or décolletage.
After you have estimated your body and decided what tactic to use, you can choose from the following clothing lines:
Will add volume to your bottom
Will soften your shoulders
Will broaden your shoulders
Will show your shoulders off
Fabrics:
If you have straighter body lines, you can wear crispy fabrics such as cotton, linen gabardine, fine wool, satin, crisp silks and crinkled fabrics. They will be in balance with your body. If you are full busted and have got a body with smoother lines you should choose softer and drapier fabrics.
Patterns:
The general rule about patterns is, patterns need to be in balance with your scale, body line and facial features. For example, if you have straighter features and a quite straight body line (as with those celebrities), the more angular and geometrical patterns you can wear and vice versa.
Usually (not always) this body shape craves simple lines and an uncluttered silhouette.
Note that these recommendations are general. Different women with inverted triangle body shapes may look completely different. One may lean to hourglass if the waist is more defined and the bottom has some curves, another to rounds if they are full busted and store weight mostly around the tummy.
They may have different proportions and length of necks and legs, so personal recommendations will vary from woman to woman.
Therefore here are some nuances:
Choosing a shirt with a collar or collarless, turtlenecks and scarves depends mostly on the length of your neck and size of your bust than on the width of your shoulders.
Some Inverted triangles find dolman sleeves flattering while I find that all types of wide sleeves make me look much bigger on the upper half.
Usually cap sleeves are a big no-no for inverted triangles but it really depends on the neckline of the top. In combination with broadening necklines, cap sleeves increase shoulders.
If you have any questions, please comment below.