Trends: How to wear soсks and shoes trend
For already few years designers are trying to convince us that there is nothing wrong with pairing socks with flats, heels and sandals. I must admit…I'm sold.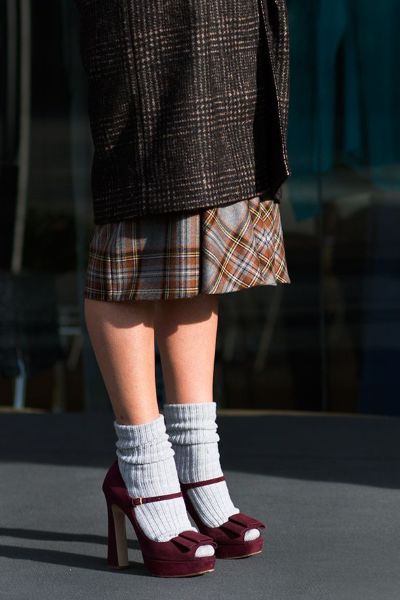 Let's take a look back at the history – there was nothing wrong with socks through 30s-40s-50s (from 60-s they were more in knee-high/over-the-knee shapes).
30s picture from retrowaste.com    
40s picture from drshute.com  
50s picture from retrowaste.com
For the latest decade socks with sandals became a taboo, mostly because of frumpy men who wore them with ugly sandals, shorts and often with a beer belly. Despite that it became a trend and celebrities wear them all around, but I still don't find it attractive no matter how comfortable it is.
I'm going to talk about more elegant, sophisticated and feminine part of this trend. If you feel that you are ready to try wear socks in a new way, but don't know where to begin here are some tips. Please keep in mind that this is only my point of view, not a law, a bible or rules you must stick to.
Socks with Jeans or Pants
The safest way to wear socks is to take an inspiration from men's fashion and to wear them with loafers, brogues or another type of menswear-inspired shoes. Both heels and flats work well. Here is a great Pinboard for inspiration
Socks with Skirts, Shorts and Dresses
Socks with skirts or dresses have something touching and very feminine. Look for an inspiration in pictures from 30s-40s-50s. Be careful when playing with a school-girl-look including mini, not to fall in one of adult games characters. I think this will look better on young slender gals, while socks with heels and midi skirt can be worn by variety of ages and sizes. Bear in mind that socks may shorten your legs. High waist and/or heels can help to balance proportions. Experiment by pulling socks and skirt up and down to find the best combination.
Colour choices ranging from the safest to more courageous looks:
Match solid coloured socks with colours of your shoes or pants (with a skirt it will look like ankle boots from a distance)
Match your sock's colours with a colour of another part of your outfit
Match the print of your socks with colours of your outfit
Try lace or fishnet socks

To me it seems very sexy when a tiny bit of lace is visible between man inspired shoes and trousers/jeans
Try white socks with jeans and loafers
Try a pair of socks in a bright contrasting colour
Pictures from Pinterest
To get use to wearing socks in a new way, plan your experiments for the time when you don't need to impress anyone. For example, for meeting with friends in a cafe or cinema, walking with (or without) kids and further more. And don't take it seriously. It's just a game, and it's just socks. Play and enjoy! Think of those freaky persons you sometimes meet. If they can, why can't you? More pictures for inspiration you can find on this Pinboard and on this one. Do you like this sock trend? Will you try or skip it? If you notice some mistakes please don't hesitate to point them out ;)