Inspo: 4 Types of Pants to Try
When I come to my clients to clean out their wardrobes I often find there collections of similar garments. For example, 10 pairs of skinny jeans, 5 skirts same in cut, etc. Often when we find a cut that works for us, we stop trying new things. The result is a wardrobe full of clothes, but the outfits look pretty much the same every day.
It is important to try new silhouettes once in a while in order to look modern and add variety to your wardrobe.
Here are my suggestions of pants that look good on most bodies, because of an elastic band and/or a drawstring and loose fit. They go well together with all types of shoes and tops. You can dress them up and down and wear everywhere from parties (even weddings) to playgrounds and beaches.
This applies to all pants mentioned below: A solid colored pair made of lean fabric will be the most versatile. If you want to add some volume to your hips you can try stiffer fabrics. If not, opt for thin flowy fabrics. Viscose, silk, lyocell, cupro, modal, polyester and their blends usually drape good.
Jogger-like 
Here I'm talking about the dressy ones made as joggers, but not the real jersey sweatpants
These are from H&M's current collection, but you can find them in any other clothing brand.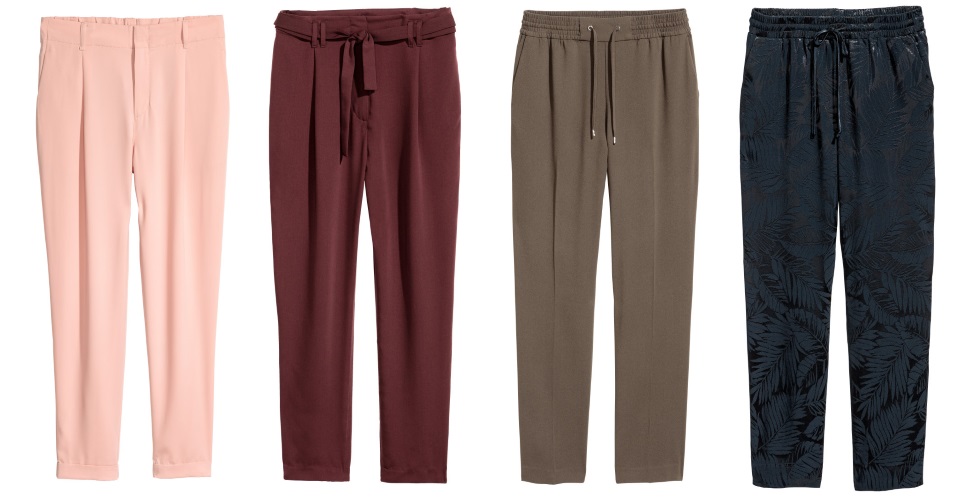 Here are some examples how to wear them.  Use these keywords to find more ideas – "jogger pants outfit", "dressy jogger pants outfit", "track pants outfit".
Always search for more ideas before you make a decision. You may also want to check my post – "How to wear joggers".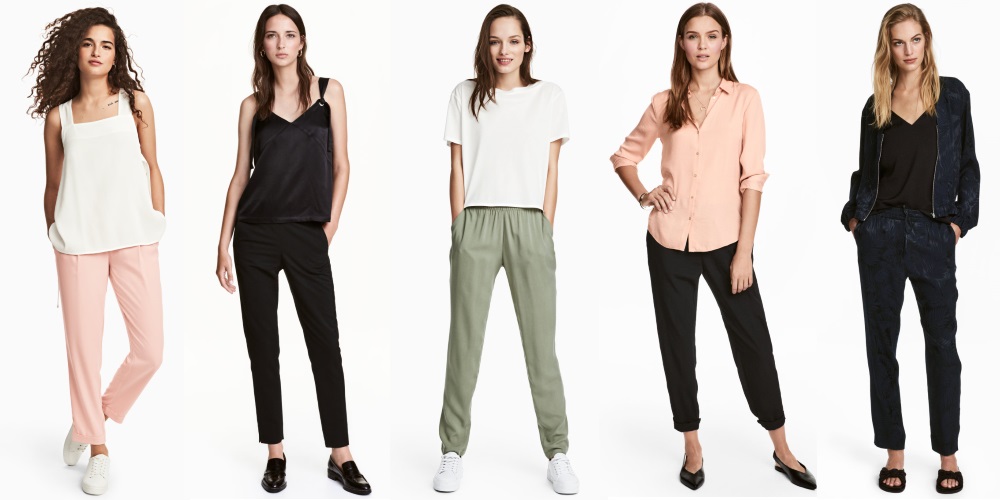 Culottes
The next type of pants that everyone should try is culottes. They are super comfy and will keep you cool during hot weather, as they create air flow around you legs when you walk.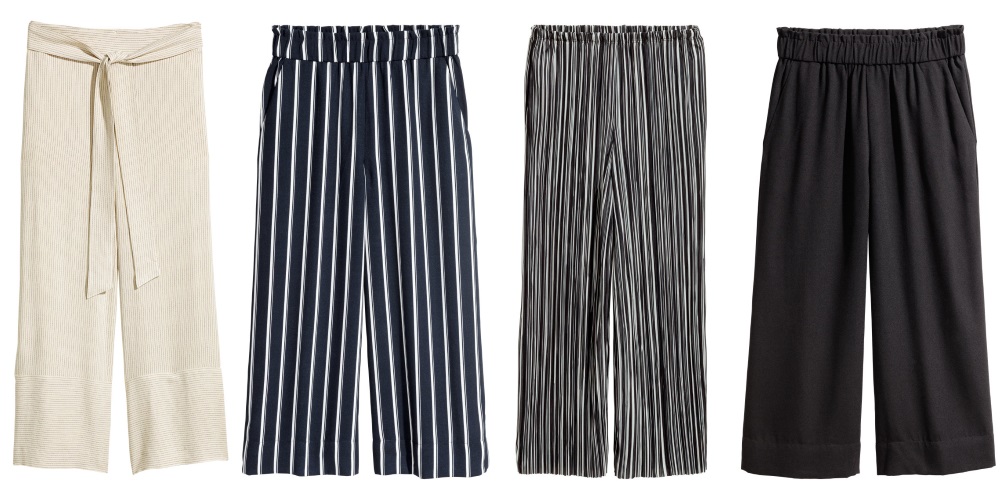 There are some controversies about culottes shorten legs… If that is your concern just choose a pair with a higher waist and keep your tops closer to your natural waistline – the problem is solved. The length can vary from below the knee to above the ankle. Try different pairs to see what length you like the most on you.
These are also from H&M
Wide leg or Palazzo
Another type of pants you should try is wide leg or palazzo pants.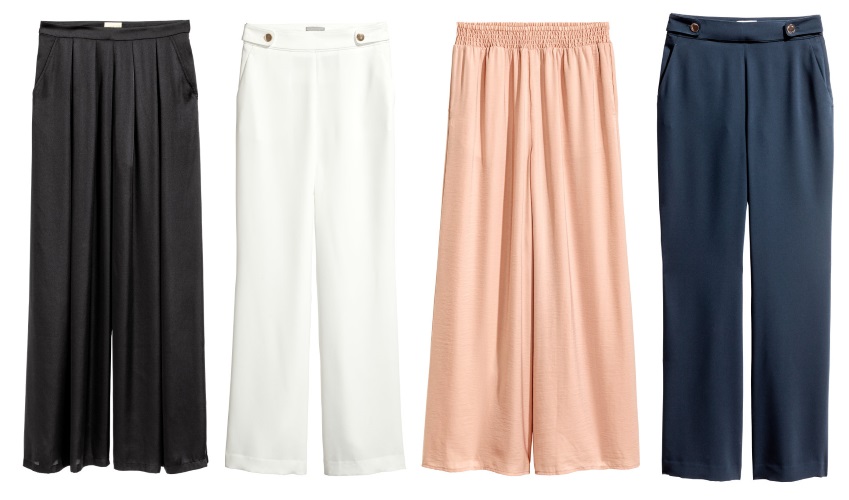 And some outfit ideas. Keywords for more – "wide leg pants outfit", "palazzo pants outfit"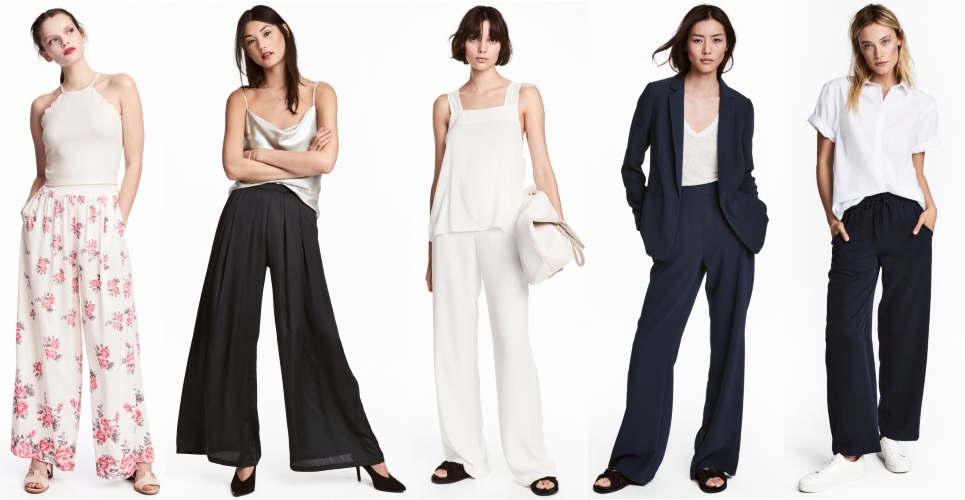 OK, those were quite safe alternatives that don't require much thinking, suit almost everyone and can be worn almost everywhere.
If you have already tried all of the above mentioned pants and feel adventurous, than you may be interested to try something more daring..
How about adding some ruffles to your pants? Ruffles are hot trend right now and I think they will stay for a couple of more seasons, but not much longer. Consider this when you open your wallet.
You can choose how far you are ready to go. The pair on the left is from H&M the rest are from Zara.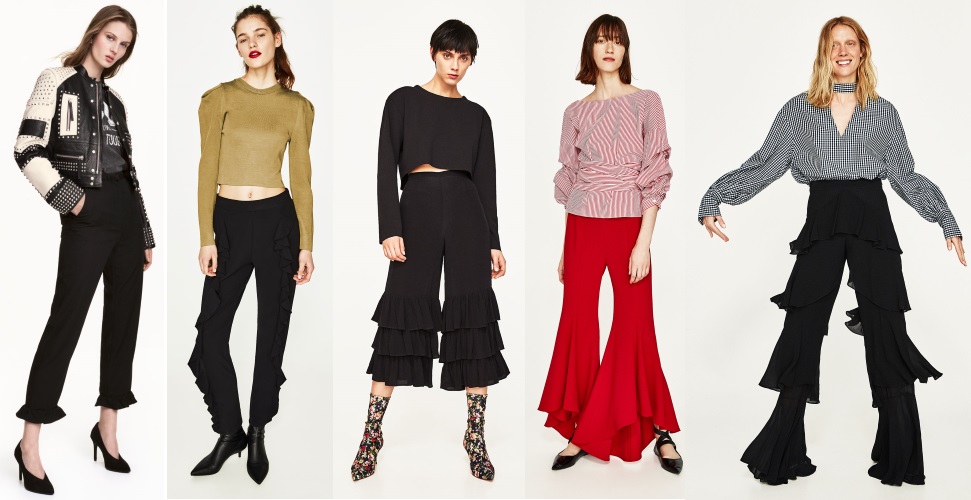 Did I manage to convince you? If you are not ready to buy a new pair pants, at least go to a store and try them on! It won't hurt anyone ;)