How to choose a timeless coat
Are you looking for a coat that will never go out of fashion and which you could wear for many years?
Here are some points you need to pay attention to in order to achieve the timeless look.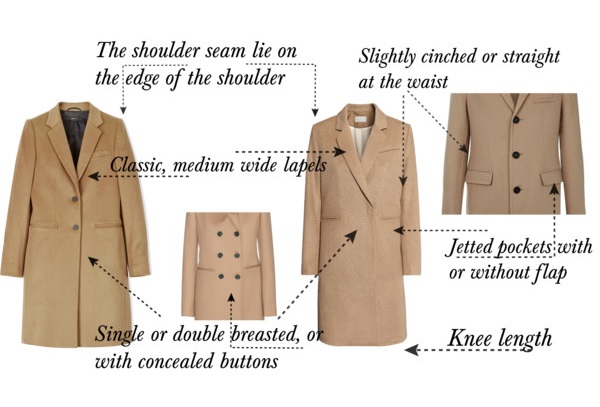 – The shoulder seam should lie on the edge of your shoulder. This may not be as easy as it seems, due to the general trend of this decade – dropped shoulder line. This trend comes and goes, so if you buy a coat with dropped shoulders and plan to wear it for 10 years, the chances are that everyone will guess when the coat was bought.

– Opt for classic medium wide lapels, slightly shaped or straight waist, and knee length as they don't belong to any certain fashion period
– Closure.
Single breasted closure has a slimming effect because it creates a vertical line. Due to two layers of thick fabric double breasted closure may add some extra volume to the stomach area. If you prefer concealed closure – choose regular buttons over snap buttons/press studs, as they tend to stretch the fabric around them.
– Pockets with flaps will add a little bit of extra volume to the hips.
– Colours.
Navy, grey, camel, beige, white, black, dark brown, dark green, dark burgundy and dark purple are all timeless colours.
The timeless coat is as simple as possible. Every extra detail may link it to certain time periods, which may create unwanted difficulties for us when it comes to combining the coat with other garments.
I bought his coat in 2004 and still wear it.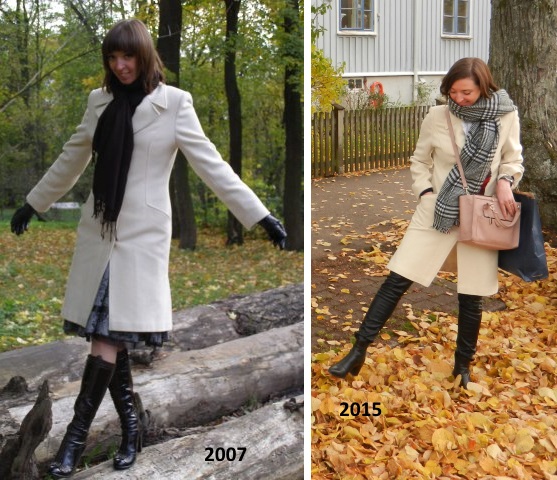 And here are some more ideas on how to style coats.